Chef Antoine Rodriguez
Executive Chef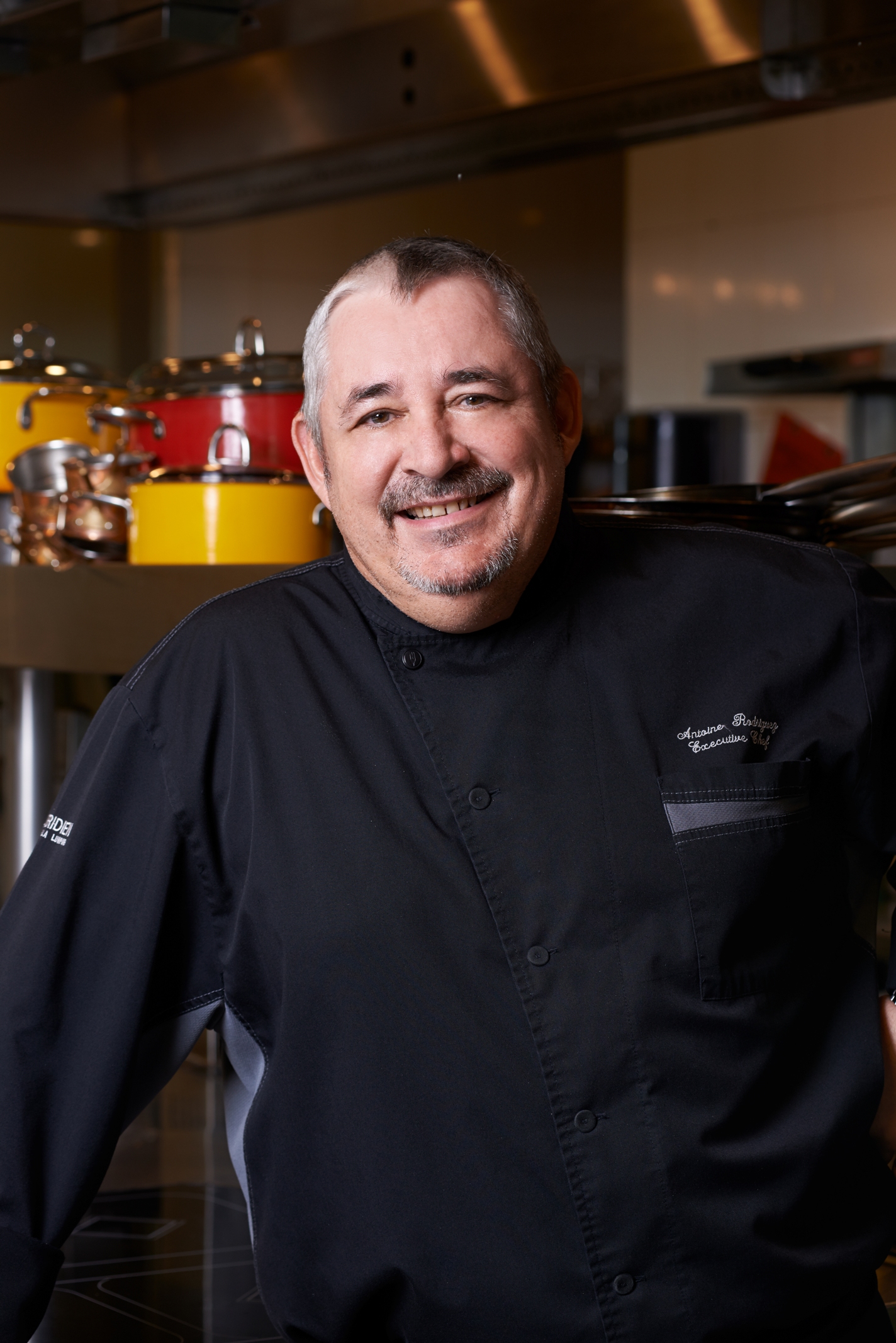 "Food is what brings people together and we strive to ensure the best is served."
Antoine joined Le Méridien Kuala Lumpur as Executive Chef in year 2004, and his venues and catering department have been flying high since.
When it comes to improving the efficiency of one of the most important and largest departments of a hotel, it takes a person with utmost experience. As Executive Chef, Antoine Rodriguez has been instrumental in keeping everything together and ensuring that consistent high quality food is served to guests and associates. However, it was his intelligence, knowledge and creativity that won the heart of the judges during the Hospitality Asia Platinum Awards 2011-2013 Regional Series recently for the 'Executive Chef of the Year' and 'King of the Kitchen' when he defeated 16 other nominees. He also won the Hospitality Asia Platinum Awards in 2005, 2006, 2007, 2008 for the 'Best Executive Chef' in a row and a first for an Executive Chef.
When French-Spanish Antoine is not busy penning down recipes, he stretches for a game of golf. With a handicap of 13 presently, he aspires to become the next Tiger Woods! When he retires of course…
Budiman Bistari Bin Mohamed
Executive Sous Chef
"Food has more than just flavour…it unites people."
Born and raised in Kedah, Executive Sous Chef Budiman Bistari brings the memories and flavours with him wherever he goes. Budiman joined Le Méridien Kuala Lumpur in 2004 as Chef De Partie and has since then experienced a consistent path of celebrated promotions and culinary discoveries.
Budiman's signature dish is the Braised Bahmia Lamb Shank, Deep Fried Black Glutinous Cake and Dates Acar – naturally, influenced by local herbs and spices, complemented with his skillful cooking methods to bring out a truly authentic aroma. The local culinary competition scene has enjoyed Budiman's creative cuisine. He is the Gold medalist of Culinaire Malaysia 2009, for the category of Individual Hot Cooking – Malay Ethnic, and having won in Culinaire Malaysia 1997, 2001, 2005 and 2007, and the Malaysia Airlines Langkawi Culinary Festival 1999. In the international arena, he ranked 3rd in both the Singapore International Culinary 2002 and Hong Kong International Culinary 2001.
The ever-grinning chef also enjoys watching real life-inspired stories on television and listening to acoustic guitar songs. His philosophy on cooking is inspiringly, filled with lots of love – to be respectful to the gifts of nature, to be passionate and generous with cooking, and to bring people together.
Domenico Piras
Chef De Cuisine - Favola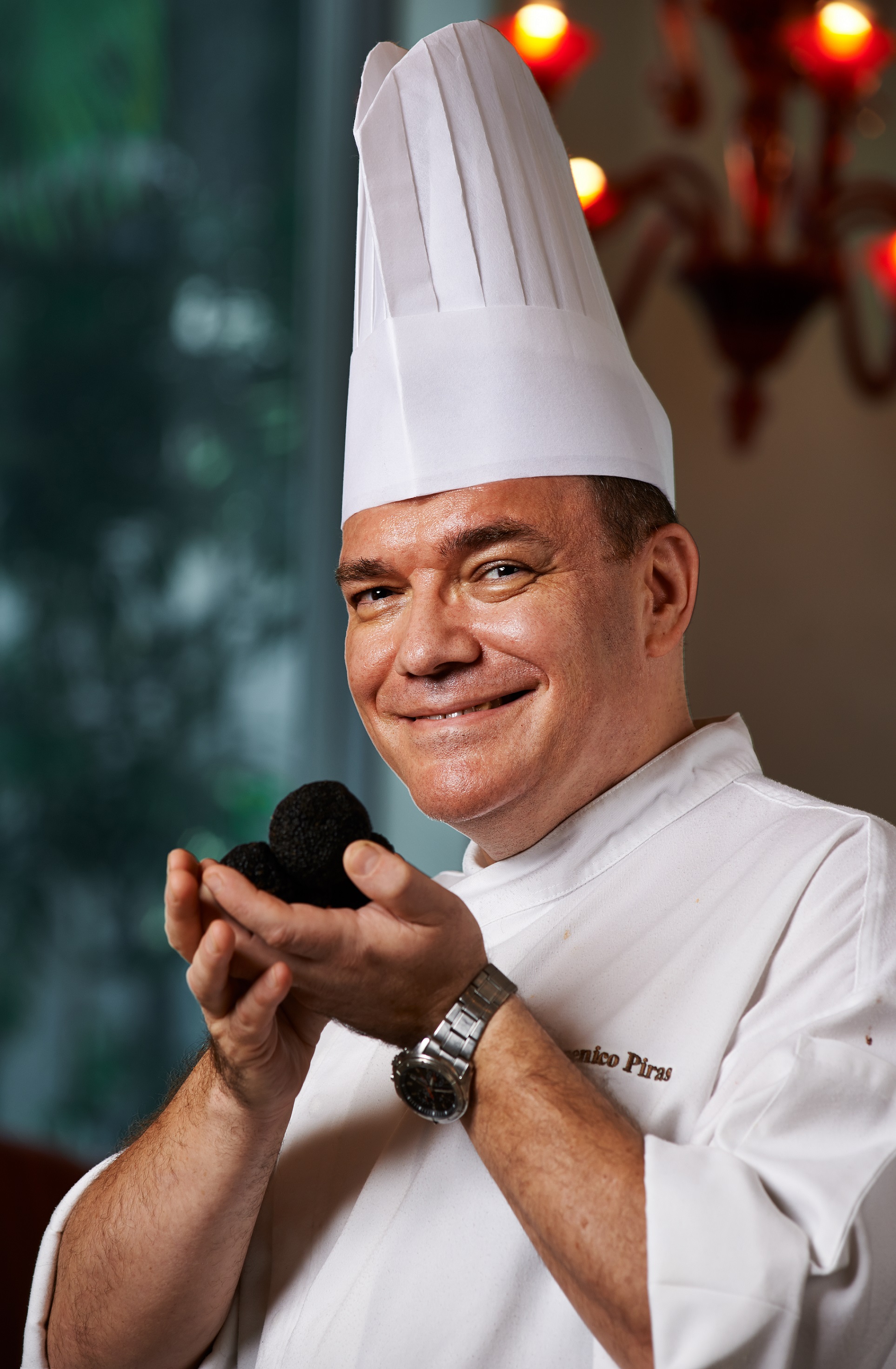 From Sardinia to Favola
Born in Milan and raised in Sardinia, a beautiful island in the Mediterranean Sea, Chef Domenico Piras brings his 30 years of culinary experience to Favola. Throughout his career, Chef Domenico has cooked for a host of public figures and royalty including Prince Rainier and the Royal Family of Monaco, family members of the Sultan of Brunei and Italy's ex-Prime Minister Silvio Berlusconi.
With a love for herbs like wild fennel and myrtle, his dishes are largely colourful, with the traditional Italian taste. As a person who dislikes monotony in the kitchen, he always challenges himself by creating new dishes from available ingredients in the fridge.
While risotto is his specialty and favourite dish to cook, the charming chef is also most passionate about introducing Malloreddus and Fregula, famous pastas from Sardinia. In fact, look out for the dish called 'Sardinian Mixed Seafood "Pingiadedda" and Fregula'…
Look forward to an exciting new selection of authentic Italian specialties from Chef Domenico Piras!
Sazli Nazim
CHEF DE CUISINE - GASTRO SENTRAL, POOL BAR & GRILL@8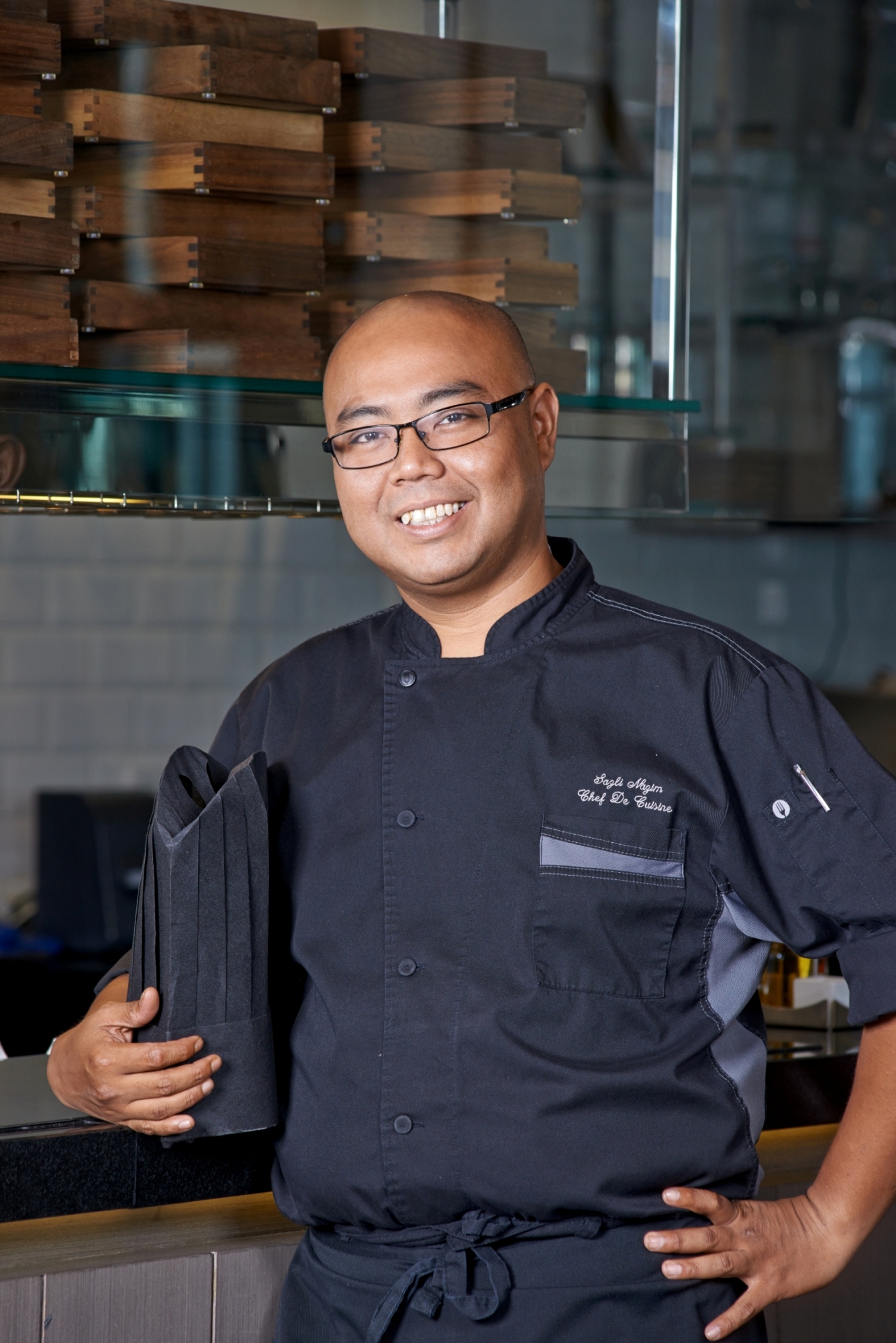 "My cuisine is unpretentious and honest, yet luxurious and constructed with passion and flair."
Linger over the menus at Gastro Sentral and Pool Bar & Grill@8 and it quickly becomes apparent that a wonderful talent is at work. Sazli started his career in 1997 as a kitchen helper in JW Marriot Kuala Lumpur's California Grill. He made his first significant move to become Demi Chef at the Villa Danieli restaurant in Sheraton Imperial Kuala Lumpur. He then quickly moved up to become Chef de Partie, under the strict guidance of celebrated Chef Zubir Mohd Zain.
This local culinary talent has real flair, great imagination and buckets full of enthusiasm. His superb skills and creativity won him the 'Most Outstanding Chef – Prime Minister Golden Hand' award at Culinaire Malaysia 2007 and the 'Most Outstanding Chef' award for Culinaire Malaysia 2013. Sazli has also won silver medals in competitions such as the Food Hotels Asia, Singapore in 1998 and Hong Kong HOFEX in 2001. As a member of the Malaysian National Culinary Team, Sazli has represented Malaysia numerous times at the Culinary World Cup in Luxemburg, where he won silver medal in 2002 and 2006 and silver and bronze medals at the Culinary Olympic in Erfurt Germany 2012.
When Sazli is not whipping up his culinary skills in the kitchen, he enjoys spending quality time with his two daughters and two sons.
Ramu Mathuraveloo
CHEF DE CUISINE - LATEST RECIPE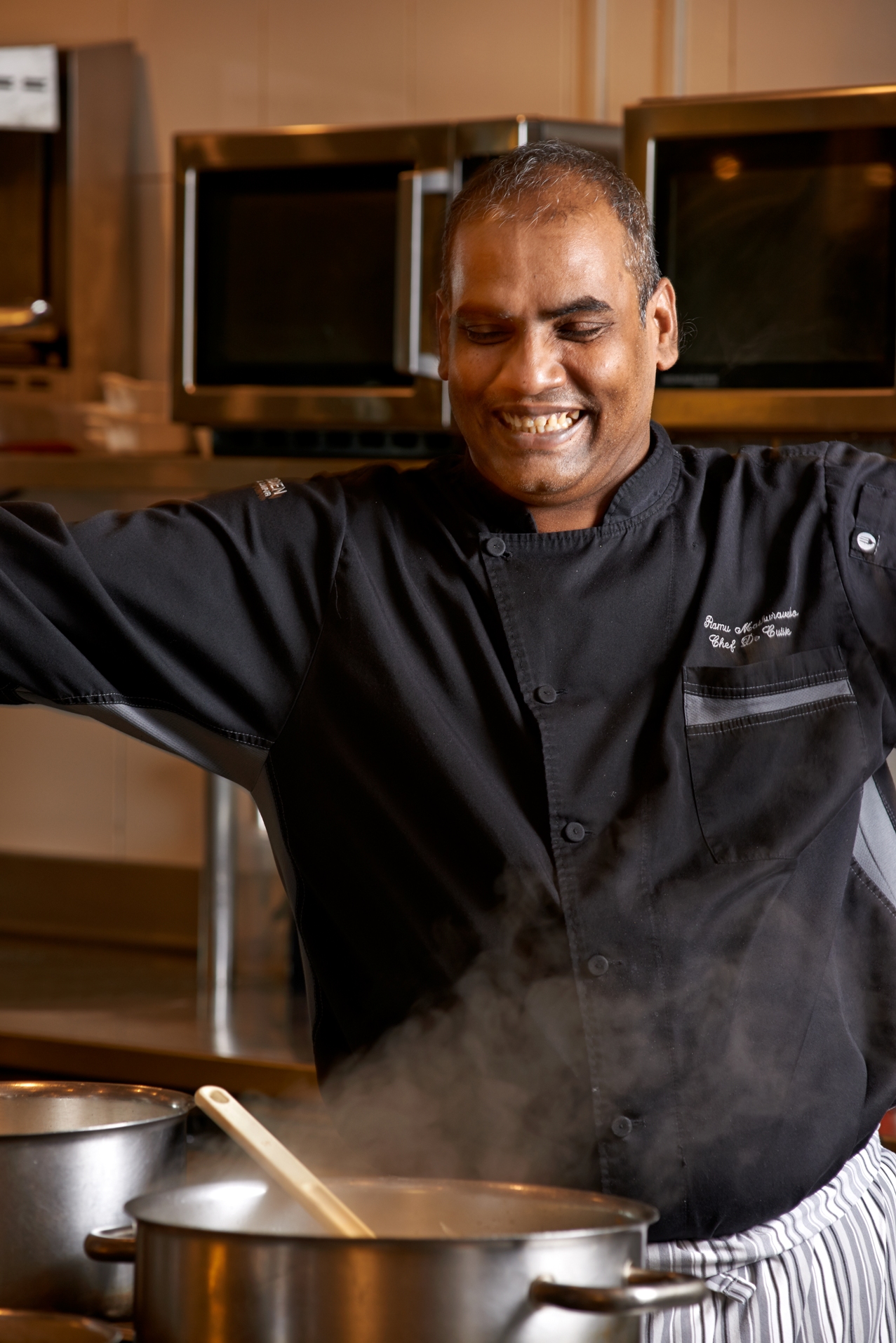 "Guests will discover a parade of glorious food with explosive flavours at Latest Recipe!"
Having been in the culinary arena for over 20 years, Ramu spent most of his childhood by his mother's side learning the importance of balancing the rich flavours of local delicacies as well as mastering international flavours. This early introduction inspired his lifelong passion for the culinary arts.
Born and raised in Perak, Ramu started his professional career in 1989 as Sous Chef in Federal Hotel International Kuala Lumpur. He joined Le Méridien Kuala Lumpur in 2006 as Sous Chef in Latest Recipe and supervises a team of 20 personnel.
Throughout his culinary journey, Ramu garnered recognition and awards that included the Gold Medal for FHM Culinary Team Buffet challenge in 2003, Gold Medal in FHM Culinary challenge, Singapore in 2004, and Bronze Medal for the FHM Culinary Challenge in 2005.
When Ramu is not whipping up his culinary skills in the kitchen, he enjoys spending time watching movies, bowling and gardening.